Who's online
We have 155 visitors online
Import HTML pages as Joomla articles in seconds!

Have you built a Joomla site - and now want to import content to it, but don't want to spend hours and hours on each page?
You can create Joomla articles almost instantly from any HTML file using HTML 2 Articles.
It's Fast
Each article takes an average of 20 seconds to process - including import of your images, W3C validation, conversion to UTF-8 encoding (if needed, for optimal integration) and more.

You can even queue hundreds of HTML files at a time for processing, and just leave it running. Each file is automatically processed and integrated with your Joomla install.

What is included?
Near instant import of HTML files to your Joomla! installation

Powerful HTML clean up & tag stripping options

Inbuilt W3C Validation engine

HTML tidying, repair and validation on the fly

Automatic import and integration of your images and documents

Support for all charsets and encoding types

Automatic conversion to UTF-8 encoding for optimal Joomla integration

Full documentation

Automated process logging

Queue 100s of HTML files at a time for processing

Automatically create your article title, alias, keywords and description

Select your full article parameters such as category, author, access level and so forth

Maintain your links with Update Links (BETA - Joomla 1.6+ only)
Certified for 

Rated the #1 import system for Joomla
HTML 2 Articles is used on hundreds of Joomla systems, and we have received some fantastic praise, such as:
"the speed at which articles import is unbelieveable"
"A real timesaver"
"the most useful extension I have ever used"
"the crown jewel of joomla extensions"
"HTML 2 Articles was worth every penny and has saved me hours."
"Crazy Crazy Awesome Component Well Done"
"make the investment in HTML 2 Articles; I give this TWO thumbs up!" 
Buy now and experience HTML 2 Articles yourself!

Buy it today
All purchases come with upgrades, support, and a satisfaction guarantee.
-->
---
Screenshots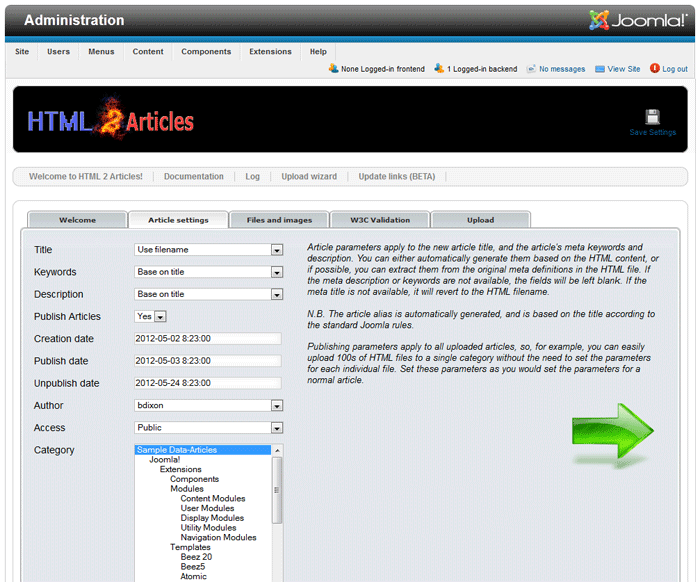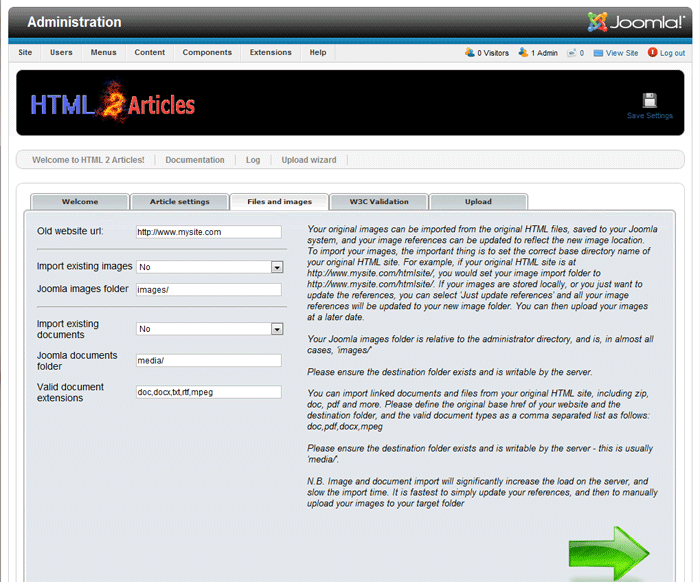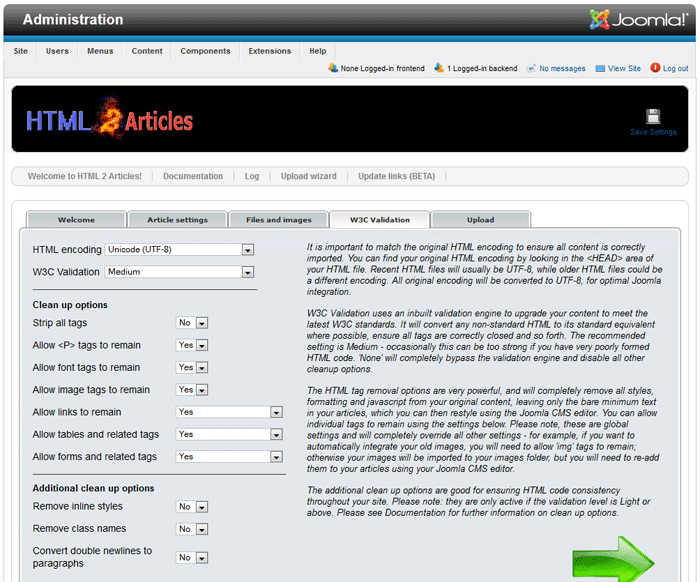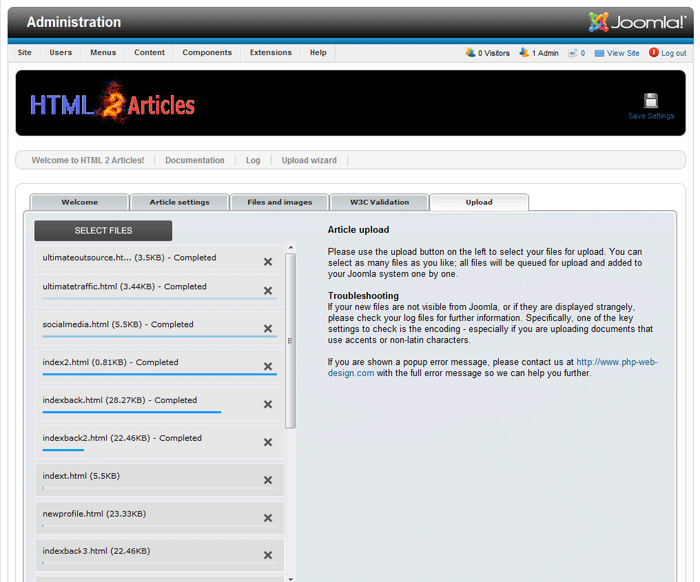 ---
Your comments
1-100 of 157 Comments
What version of PHP does the extension work with?
I am going to attempt the "clumsy workaround" you mentioned above, since I can't seem to get cms2cms.com to migrate my Mediawiki site to my new Joomla 4 site.
Hi Michael,
Tim Davis here, helping with support.
HTML2Articles only works with Joomla 3 at this point so it runs great on the PHP versions that J3 Requires. That provides a path to import your site into higher versions of Joomla as after you have your content in J3 you can simply run the migration to J4 and then update to J5.
God bless,
Tim
Hi there,
Are you going to release J4 compatible version of HTML2Articles anytime soon? Thanks
I am also checking to see if HTML2Articles is going to have a Joomla4 compatible version
Hi, any date for the new release?
Hi,
any Release Date? It isn't functional with PHP8 too....
Tim Davis here helping out with this one.
HTML 2 articles is not yet compatible with Joomla 4 with no firm date for when it will be.
However, in your search to import HTML pages into a Joomla site, I offer this somewhat clumsy work around:
1. Install a new Joomla 3 site, without any of the sample pages
2. Using HTML 2 Articles, import the html pages you want into the Joomla 3 site.
At this point, if the goal is to convert an entire html site into a new J4 site, simply migrate the J3 site to J4.
However, if you wish to add the imported articles to an existing J4 site, you could use one of the various methods you can find online that describe how to move articles from a J3 site to a J4 site. However, finding the best way - or even one that works is a bit of a minefield. The paid solution I would try is SPTransfer - https://extensions.joomla.org/extension/sp-transfer/ However I've not used that on a J3 to J4 export, so I am not guaranteeing it.
Another path to migrate content into an existing Joomla 4 site would be the Joomla 4 API. This video will introduce you to that method: https://youtu.be/ZH3a4MHB718
I hope that helps. I know it's not the answer you were hoping for, but hopefully the other ideas may help. Keep me posted on what you find and feel free to ask more questions if you have them - [email protected]
Hello
please i need an information sh'd i be able to export content users menu and categories too? Thank you
Hello,
This extension migrates HTML content to Joomla articles only, it is not able to migrate users, menus or categories.
You might be looking for MigrateMe or MigrateMe Plus if you want to migrate an existing Joomla install to an updated version?
There are no extensions at the moment to migrate users from *another* CMS system to Joomla.
Regards
1. can I import plain HTML files not made in Joomla into Joomla using this software?
2. The files on my current site are either in .pdf or Word and I want to import them into the new Joomla site into a Joomla article without having to format it? I am not looking to just have a link to the .pdf file I need it to be integrated via the import procedure.
3. I can convert most to an HTML file if that is the only way to work with your software?
thank you in advance I have bought software and used your excellent support many times over the last 12 years that is why I always ask you first before looking at others
Hello,
Thanks for your message.
1 - Yes you can import html files into Joomla using this software
2 - You will need to convert these files to HTML. Please be aware that the software will import the content, but the styling must be recreated if needed, generally you'd do that through adapting your Joomla template
3 - That's the only way yes
Thanks for your questions! Have a great day
my website contains a directory supplied by SAP with pdf files in it.
i d like to create content with the article name = name of the pdf File where the content of that article has to be a link to the pdf file (something like
Hi Rolf,
Likely possible, but I don't have an extension that will handle that sadly. You'll probably need a custom built extension, or maybe a one-off migration.
Regards, Barnaby
I am just about ready to buy, but have one key question: will I be able to keep the original dates for each of the articles or will they all simply import into Joomla with one date?
Hi there,
The article creation date is set as the date the article is created - it's not possible to import the date from the original HTML page.
Sorry about that!
Barnaby
Dear Barnaby -
Our installation of Joomla for one particular operation is in a DMZ. Users can access the content, however if you were, say, sitting on the network the server is on, you would NOT be able to access any websites whatsoever.
From a CLIENT PC, I can administer Joomla, load HTML2Articles, and configure it for an upload.
From the same CLIENT PC, I can access the website that has the content I want to pull in.
However, the JOOMLA SERVER would NOT be able to access the website.
I believe that, when we plug a URL into the HTML2Articles import page, the server has to be able to hit that address, not just the client. Is that correct?
Hey David!
You can upload HTML files to Joomla using HTML 2 Articles without any network access at all. You'd be uploading static HTML files, saved as .htm or .html , and uploading them to your local Joomla instance.
It's only if you want to automatically retrieve the original images that you'd need network access, and the Joomla server would need to access the original remote domain in order to save them to the new Joomla server. If no network access is available to the new server, you can still run the import, then upload the images manually.
Regards, Barnaby
Joomla and html2articles are perfect components!!!
Hi there,
I have a old HTML website janvanhout.nl that must be import in Joomla 3.6.4. Is this plugin the sollution to do this? Can you tel me?
And what do the plugin with all the tables and css in the pages? If the plugin help a lot, I want to by. Because the website have 2.500 HTML pages en I think the plugin is faster than if I copy and past.
Can you tel me of this plugin can help me to convert all these pages?
(sorry for my English :-)
Thanks, Joyce
Hi there Joyce
Thank you for your question.
Yes HTML 2 Articles can import your pages to Joomla articles for you.
I would suggest going slowly at first, to ensure your settings are correct. Once you're happy with the way pages are importing you can import all the pages, hundreds at a time :-)
The way to do this would be to import the 'internal' pages. So, for example, instead of importing this page: http://janvanhout.nl/brand/br_frame.htm you would want to instead import the inner frame, which is this: http://janvanhout.nl/brand/fam/adrichem.htm
That way you can import the content, without importing the extra menus.
And the way to reproduce the menus would be to create first a category structure that matches your existing website structure. Then create a menu that matches the category structure.
This way you can import the content to the correct categories, and you can use the Joomla menu and module manager to manage the menus, headers and sidebars.
I hope that helps!
All the best, Barnaby Dixon
Hello,
I've written a tool to Save the entire Online Website in DB (it's zf2 so I can change it also to HDD.)
If I don't change the Picture path, would it then get the Pictures from the old online website? (src would be: htttp//www.my-domain.de/my/picture/path/imagname.jpg)
And are they stored in Joomla or are they gone, when we turn the old website off?
Thanks.
J.B.
Hi there,
Yes that is correct. HTML 2 Articles will find your original images, and import them to the new Joomla system. It will save each image in the /images/ folder. This means that when you turn off the old website, they'll still be available and visible.
I would suggest running a test import with just one page to check the image settings are correct and working well, before importing all pages.
All the best, Barnaby Dixon
The images will
Dear Barnaby,
We are wondering if your tool works well for word import document.
I have seen there is no demo to check it.
But would you tell us more about it? Just to be sure that it will fulfill our needs?
We take screenshots that we paste into word documents.
Once validated, this word document is our basis to create an article.
My questions are :
- if I save my word document into a HTML file on my PC, will your tool be able to upload images and insert them into the articles?
- will the import tool create a sub-folder for those images? or just put them in a default folder? (and what if some pictures have the same names)
Thank you in advance for your reply,
Best regards,
Vincent
Hi Vincent
Thank you for your email.
Word is a bit of an edge case. It does work, but Microsoft adds a huge amount of its own proprietary invalid HTML, such as font formatting, spacings, things like that, which can't be used in Joomla. HTML 2 Articles can strip those out by enabling the W3C Validation option, so you have a correct HTML valid article.
Images are a bit of a problem, if I remember correctly, Word saves the images in the document as something like image1.jpg, image2.jpg and so forth - for all documents, in individual folders. As you can imagine, this causes a bit of a problem with name conflicts.
So, will the file upload into HTML 2 Articles? Yes it will, but it's not perfect.
You might find it's easier to create the article directly in Joomla, but make the access for Administrators only, so the public can't see the new article until it's been approved.
I hope that helps! All the best, Barnaby Dixon
You don't need a developer.
You don't need to spend hours figuring out if you have time right now to work on upgrading Joomla.
Just get the plugin, read the instructions and hit go.
I upgraded Joomla and Virtuemart with ease.
If you hit any issues the support from php-web-design is phenomenal. Response times of less than 4 hours for any question I had.
I cannot recommend this plugin enough.
Just get it.
We would like to migrate a very large HTML Web site to Joomla 3. Reading through the existing comments, our challenge is to only migrate the actual content of the HTML pages without the actual content being specifically marked by a DIV tag. To illustrate: For the HTML page
http://www.slseaa.ch/events/050515.htm
the resulting Joomla article should have picture of the Kremlin and the text below as the content, leaving out the menu links on the left, the site logo on the top and the copyright note on the bottom. Preferably the Joomla article should get "Evening with Professor Dominic Lieven" as its title.
Can HTML2Articles and/or NetSukii do that?
Hi there,
Thank you for getting in touch.
Unfortunately, without an ID or some way to identify the content area, it'll be impossible to strip out the content you want with any accuracy.
The best solution for you would be HTML 2 Articles, but I'd recommend first going through each page and adding 'id="mycontent"' or similar to the section of the page that holds your content.
Similarly you'd want to change the tag to hold the title you want as your Joomla article title - HTML 2 Articles needs this to be able to identify the title.
This might be possible with a mass Search & Replace tool such as Funduc Search & Replace.
I hope that helps.
All the best, Barnaby Dixon
I just purchased HTML2Article, did the first time setting, when I reached the Upload tap, I do not see any file get listed and only SELECTED FILES on the left. When I push it, it will take me to my local drive!! I though it should have imported content from the site, then list the files under upload tab. So what happen? How can I resolve it?
Hi there,
Thank you for getting in touch.
HTML 2 Articles allows you to upload HTML files directly into your Joomla system, and will convert them automatically to Joomla articles. You will need to select HTML files that are stored on your local harddrive.
After import, you can find your new articles in the HTML 2 Articles log screen, or in the Joomla Articles Manager.
All the best, Barnaby Dixon
Dear Barnaby,
I have lots of htm files which translated from MS word files.I want import them to the joomla as the articles.I know
the HTML2 Articles can do that,but I still have one question.
In these htm files there are some picture path,when i use HTML2 Articles to import them,does the picture path automaticly changes to suit for the picture in articles? also,could the picture be imported into the floders in joomla?
Hi there,
Thank you for your question. The basic answer is yes, it will work - but please send me a sample word document along with its image files, and I will send specific recommendations on which settings to use. You can reply directly to this email.
Thanks! Barnaby Dixon
Can your system import Microsoft Word documents WITHOUT having to convert them to HTML first?
If no, do you know of a way to batch convert Word to HTML?
Hi Patrick,
I'm afraid not - the MS Word format can only be translated by MS Word. Your documents will need to be in HTML format to be understood by HTML 2 Articles.
You could try this: http://word2cleanhtml.com/
All the best, Barnaby Dixon
Does the import also create intro text and intro image from the article?
Hi Colin
No, not automatically - although you can define where to put the intro / main text split with a little editing of your HTML file pre-import. You just add at the point where you'd like the split in your page.
I hope that helps.
All the best
I have a very old MS FrontPage site I want to convert to Joomla 2.5. Looking at the FrontPage URL, the web site has the all the navigation and its rather nasty HTML coding attached.
I have a local backup of the site on my hard drive. The HTML code here is much cleaner, with no navigation code and none of the MS template formatting in it.
Can I use HTML-2-ARTICLE to import this cleaner HTML code off the hard drive, which I am sure is going to be much easier to work with once it is in Joomla.
The basic template for the updated site is complete. I want to get this migration project started as soon as possible. Any help or insight would be greatly appreciated.
Hi Steve
Thank you for your great question. Your situation sounds perfect for HTML 2 Articles. Yes you can use HTML 2 Articles to import all your locally stored HTML code, which is the recommended usage anyway.
All uploaded documents will be parsed and saved as Joomla articles, and all metatags and document information will be saved correctly to the database.
I hope that helps. All the best - Barnaby Dixon
Barnaby;
Thanks for the quick response. Just what I needed to hear. This should turn into a huge time saver, allowing the old articles to take on the style of the new site with minimal editing. Look for my order shortly.
Steve M.
Barnaby;
I have the HTML-2-ARTICLE doing a pretty good job of reading sub-webs off my local backups and moving the HTML code. There were some specific tricks I had to pull beyond using H2A for the FP conversion I will be glad to pass along.
But I am still perplexed in trying to get the images moved. In the log I get an error:
Unable to access your old website URL at \\NRSERVER2\documents\biketech/ Error icon 2014-03-22 21:49:36
Aborting image and document import - your references will be updated so you can upload your images and documents manually
Interesting thing is I can click on the same file I want to convert by H2A in my browser, and the file will display w/images.
It did take me a while to figure out the configuration parameter for images in H2A (images/biketech/), so I am relatively sure I got that correct.
The only thing that I have noticed is in qualified name listed in the error msg is that the "\" and "/" used in the qualification for the file name do not appear compatible with the MS file system.
Hope you can give me some insight or ask me the right questions so I can get the proper information to you so moving the images is not a manual task.
Thanks.
Hi Steve
Unfortunately this is the product of some very excellent security in your browser. The images I'm guessing are on your local or networked computer? Fortunately our browsers aren't able to directly access files on our computers without jumping through some pretty good security hoops, and in this case the browser can't read the images from your local store.
There are two options here. The first is to upload the images to a directory online so you can point the original image location to http://www.yourserver.com. The second option (which will probably be faster) is to set the Import Images option to 'Just update references'. Then use FTP to upload the images to your new Joomla images folder, and they should be picked up by the new articles as you upload them.
I hope that helps. All the best, Barnaby Dixon
Barnaby;
Thanks for the info. Since I have full admin rights on the server and know a few tricks with the Browser, I may try to beat it into submission just to see if I can do it.
But I suspect I will end up having to do it the way you described. I will just update the reference and FTP images into the directory.
I appreciate the help and should be able to move forward quickly again.
Steve M.
Dear Barnaby
As a noob,my question might be silly but i should ask in view of not wasting time and money on the wrong approach.
http://earthtracker.net/EARTHTRA_webpages_html/EARTHTRACKER.NET%20gallery.html
The url above is static html pages but with no menu.Navigation is strict in the sense that a limited choice is availble at each level in the tree by clicking on the image of choice. This structure is crucial in the purpose of identifying an unknown plant by comparing a user sample plant to the images sequence.
http://www.earthtracker.net/ is my new Joomla3.2.2 empty site.
Can your HTML2Articles tool preserve the structure of Earthra_webpages_html,importing to the joomla site? The pages colors ,font etc layout is not so important.
Kind Regards John Bestevaar
Hi there John
Thank you for your question. By using Joomla, you're actually forced to use the Joomla technology and navigational methods. I would suggest that you try to set up a simple article to try to achieve what you need as a test. HTML 2 Articles copies the content of your old site, but not the functionality - it will populate the Article Manager with your old HTML content.
Yes, it can preserve the structure of each page, but you will probably want to use the new Joomla menu manager, and modules functionality that is included with Joomla.
I hope that helps. All the best - Barnaby Dixon
Thank you Barnaby!!!!! That is excellent news! Well, not so excellent for your snow situation, sorry for pressing you really. But we are completely excited that this will work for us. Thanks.
And good luck with the snow!!
Barnaby, just to rattle your cage, I sent you a message asking questions about the products here. Can you please expedite your reply, we are really wanting to get our content over to our new site asap! Thanks for taking the time Barnaby! :)
Good afternoon John,
My apologies - I have been snowed under the past 24 hours! I have just reviewed your site. Although it has HTML markup, the content appears to be dynamic, so I would recommend that you use NetSukii, which will be fully capable of discovering all content, and then importing it to your Joomla system along with all images.
I hope that helps, and again my apologies for a slow reply.
All the best - Barnaby Dixon
Dear sirs or mams
We are migrating some of our Ning site to Joomla, specifically the blogs and pages. It is a hosted community social site and our pages and blogs are html based. If you want you can see us at www.thepatriotwoodworker.com. It is full html, all the blogs, discussions topics, pages are html. Will this software import our blogs and pages meahwhile retaining the images. Here is a link to our blog http://thepatriotwoodworker.com/profiles/blog/list
and the typical image set looks like this
will your product strip out the //api.ning.com from the image and replace it with our own?
Thanks guys
john
Sorry, I tried to enter the html so you could see it but it did not show up.
is HTML 2 articles included into netsukii?
Thanks for your question.
No, they are separate products. NetSukii is good for dynamic sites, while HTML 2 Articles is good for static HTML sites.
All the best, Barnaby Dixon
I need to migrate my php website in joomla site because the one men fix for me the php website and never finish is possible to migrate the php website with the HTML 2 Articles?
Thank you for your answer,
George
Hi there
Thanks for your email. If your website is dynamic (i.e. it uses PHP and takes pages from a database) then you'll probably need NetSukii, also available from this website. NetSukii can scan and import pages from any system.
All the best, Barnaby Dixon
Hello, just want to ask if this site http://treac.com.au/, all of those articles and other stuff can be migrated to joomla with this component? Just inquiring, looking forward to buy this component.. Thanks!
Hi there Jared
Thanks for your email. Yes absolutely - if you have the original HTML files you can just feed them into Joomla using HTML 2 Articles. If you don't have the original HTML files available you'll need NetSukii also available from this site.
All the best - Barnaby Dixon
Hi there
If i create the pages in Microsoft word save as mhtml then when importing to Joomla 3.2 will it preserve all the word styling etc. thanks
Hi there Nick,
Thank you for your question. The basic answer is yes, the styles can usually be maintained and saved into your new Joomla articles. But if you'd like to send over an example page I'd be happy to attempt an import to check that it works as expected with your pages.
All the best, Barnaby Dixon
And what about giving this option in the next version?
What about what option...?
Hello, i want to ask you if it is possible to set a different publish date date to each article, i mean ...i want to upload a serial articles but i want the first to publish on 25-11-13, the second on 26-11-13, the third 27-11-13 an so...is it possible?
Hi there Javier
Thank you for your question. Yes you can change the publish date in the wizard, and then import your articles, and then repeat. Very easy :-)
All the best - Barnaby Dixon
Well...i know i can change it in the wizard but i want to know if the plugin can be set up to automatically set for example the date 25-11-13 to the first article imported, the 26-11-13 to the second article imported, the 27-11-13 to the third an so....i want the plugin can make it automatically for a great bulk of them...
thanks...
Hi - no it won't be done automatically, you'll need to change the article creation date in the wizard each time you want it to change.
Hello There!
I rather have now a question. When I copy and paste HTML codes of articles, graphs, charts and formulas/equations are lost. Usually equations in Word becomes images. If I create HTML articles with Nvu, which preserves everything, can I import these HTML articles to Joomla and preserve images and equations/formulas?
I would love to have this problem solved!
If it were so, I would purchase your software!
Regards,
Albert
Hi Albert,
Thank you for your great question. Anything in your HTML can and will be imported. So the key is to check how the data is presented in the source code. If it's heavily reliant on javascript it's not going to work with Joomla without heavy modification, but if it's simple HTML5 it should work. If you can send me a sample page for analysis I should be able to double check for you.
All the best
Barnaby Dixon
Dear Barnaby,
My client has bought your product and it works like a charm.
Just one problem/question. The former html-files contain two different id's, one for the images and one for the content. Unfortunately these are not contained together in one id.
Is there a way to grap both id's when transforming the files to articles?
Thank you in advance for your reply.
Kind regards,
Marjan Nordholt
Hi there Marjan
Yes, actually you can enter multiple areas in the following format:
div||id||myid,div||id||myotherid,p||class||myclass
The format is: tag||attribute||value. You can therefore select as many areas as you like, just separate the entries with a comma ( , ).
I hope that helps. Please let me know if you need any more information, or if I can help further in any way.
All the best, Barnaby Dixon
Hi,
I was just wondering how the software handles images. By that I mean with regard to the directory structure.
Are they separated into their respective article folders? Can the folders be given meaningful names?
Thanks.
Hi Huw,
Images are automatically added using their original names, and uploaded into the /images/ folder in your Joomla system.
They could potentially be uploaded into separate folders for each article, but then you could end up with a huge amount of image duplication.
All the best - Barnaby Dixon
Hi,
A number of different images already have the same name - but are in different folders.
e.g.
car1.jpg car2.jpg (in Ford)
car1.jpg car2.jpg (in Mazda)
What happens in this case?
In this case, since the images have identical names, they'll be overwritten. I would suggest revising the names prior to import. Alternatively you could use a secondary plugin or module to manage the image distribution. The basic idea would be to upload all images to an individual folder then use a plugin to retrieve the images.
Hello!
We have a web site that is a proprietary CMS and we want to transition to Joomla
http://www.labucketbrigade.org/
Would you product work for that?
Thanks!
Kristen
Hi there Kristen,
Yes absolutely. NetSukii will spider your site, and import all the pages you want to keep, along with images and so forth.
All pages will be saved as native Joomla articles in the Article Manager. You can then use them as usual in your site.
All the best - Barnaby Dixon
Excellent product. Worked flawlessly with Joomla 3.1. Your mod to strip php tags for me worked like a charm. Thank you for such excellent support Barnaby.
Jan
Hello,
If my articles have the same alias,it will be a problem?
Hi there Kat,
Thank you for your question. If your articles have the same alias, they'll be treated just as Joomla would treat them, so they'll have a number added. So if you have three pages called 'page.html' they'll become page, page-1, page-2 in the Article Manager alias.
All the best - Barnaby Dixon
Hi i would like to migrate the articles in my joomla 1.5 site to my new one joomla 2.5 site.
I haven't umderstand if this extensions works in the administrator system of my joomla 1.5 site or if it is neccessery to have html files.
Hi there Vaso,
I recommend using NetSukii, which you can download at http://www.php-web-design.com/Joomla-Components/netsukii-the-ultimate-content-spider-for-joomla.html.
You can then remotely scan your old Joomla website, and import all pages very quickly and efficiently using the inbuilt spider and import tool.
All the best,
Barnaby Dixon
Hi.
I understand the product is meant for migrating from existing joomla site/website to another joomla site. But I am currently building my site in local host. Is there any product for uploading html files (articles) to local host in developing joomla 3.0 site?? This will save lot of time in copying and pasting the content.
Thanks
Hi there,
Thank you for your question. HTML 2 Articles is perfect for importing HTML files, and it will work just fine on a localhost.
You just have to select HTML files for import (you can select many at once) and then each file will be imported and converted to an article in about 20 seconds, and where possible, will also import images, related documents and so forth to your Joomla 3.0 install.
All the best, Barnaby Dixon
Any plans for Joomla 3.0 NATIVE version?
Hi there Joseph,
We updated HTML 2 Articles a few months ago, and Joomla 3.0 is now natively supported.
All the best,
Barnaby Dixon
Hi. Bought the product this morning and tried to install via the Joomla 2.5
extension manager. After the zip file uploads, i get the following error
message "Warning: Failed to move file!". Would be most grateful for some
guidance!
Hi there,
Thanks for buying! The error you got is almost always to do with file permissions - the server isn't letting you install the component where it needs to go.
There are two things I'd suggest. Firstly just check that your /administrator/components/ folder has the correct permissions (should be 0755). Secondly, if it still doesn't work, check that the $tmp_path in your configuration.php file points to the correct tmp directory (and that the directory exists and has 0755 permissions).
If that doesn't work please set me up with temporary admin access and I'll see if I can work out the problem.
Thanks & all the best
Barnaby Dixon
PHP Web Design
Ok, fixed the problem. It was a permissions issue. Needed to set permissions for the tmp and various other folders to 777.
Hi,
Is there any documentation on exactly how this works. I am curious if the html file to be imported requires work before importing. What I am wondering is can the extension pull content from specific divs with ids, name the article based on the H1 etc.. If I saved a web page from a live site as a static html page does the file require things like the navigation etc.. to be stripped out?
Cheers
Hi there James,
Yes - full documentation is included with the product.
Most HTML files won't need any work before importing. You can simply select the DIV container that holds the content you want to import, and all unwanted content will be stripped away. For example, if your page content is in a div called you'd just set 'content' as the DIV id you want to keep, and then you can add all new menus and so forth in the Joomla menu manager as usual, keeping just the content to be saved as Joomla articles.
The article is named based on the original page's title tag.
All the best
Barnaby Dixon
Hi, I already bought Html2Articles for versions 1.5 and 2.5 pretty awesome component. Long been waiting for this component, finally I found this.
I would like to know how to purchase the Html2Articles for version 3.x.
Thank you.
Hi Nad,
Thank you for your feedback! The upgrade to HTML 2 Articles for Joomla 3.0 is free - I will email you the downloads link separately.
All the best, Barnaby Dixon
I am totally confused. I need to transfer data from my old Joomla site 1.5, which does not have a copy on the hard drive to a new site in Joomla 2.5. I followed the wizard but there is not reference to the old site only to my comp, what should I do?
Hi Pavel,
HTML 2 Articles takes existing HTML pages and allows you to upload them into Joomla, where they are converted into Joomla articles.
If you do not have the HTML pages already stored on your computer, you will need to save them using an HTML content grabber.
Alternatively, you may find that NetSukii is a better option, since it automatically spiders and imports remote pages.
All the best,
Barnaby Dixon
PHP Web Design
Hello,
Maybe (I have the impression) my question is partly answered. I have to transfer 1000+ Mambo (version 4x 2005) articles into Joomla 2.5 and I am seriously considering buying this product. Is it working for this Mambo nightmare? Thanks for your time and best regards.
Hi there Lunarts,
It's going to be tough to get a static HTML version of each page that you want to import in this case. I'd recommend you use NetSukii, which is a content spider.
All the best,
Barnaby Dixon
PHP Web Design
Thanks for this incredible product. i think it is realy gooc and it helps our company realy much. is it ok that i translate this to danish i will send the giles to you if it's ok with you
*
Thanks for this incredible product. i think it is realy good and it helps our company realy much. is it ok that i translate this to danish i will send the files to you if it's ok with you
Hello,
the software is really great. I have just one issue saving the settings. For some reason even if I save many times (for example I want to change the categories), it takes up to 20 minutes to the changes to take effect. I cleared site cache, browser cache, with no luck. Could you please help me to find a solution?
Thank you,
Matteo
Hi there Matteo,
Thank you for your feedback. You need to actually disable your cache while you work with HTML 2 Articles - this is to ensure the settings save correctly, so you can see the new pages as they are created, and for the inbuilt security checks to function correctly. You can do this through Global Configuration > System > Cache settings.
All the best - Barnaby
Leave a Comment
1